IPALS: Immigrant Parents as Literacy Supporters (Español)
January 28, 2020 @ 10:00 am

-

1:00 pm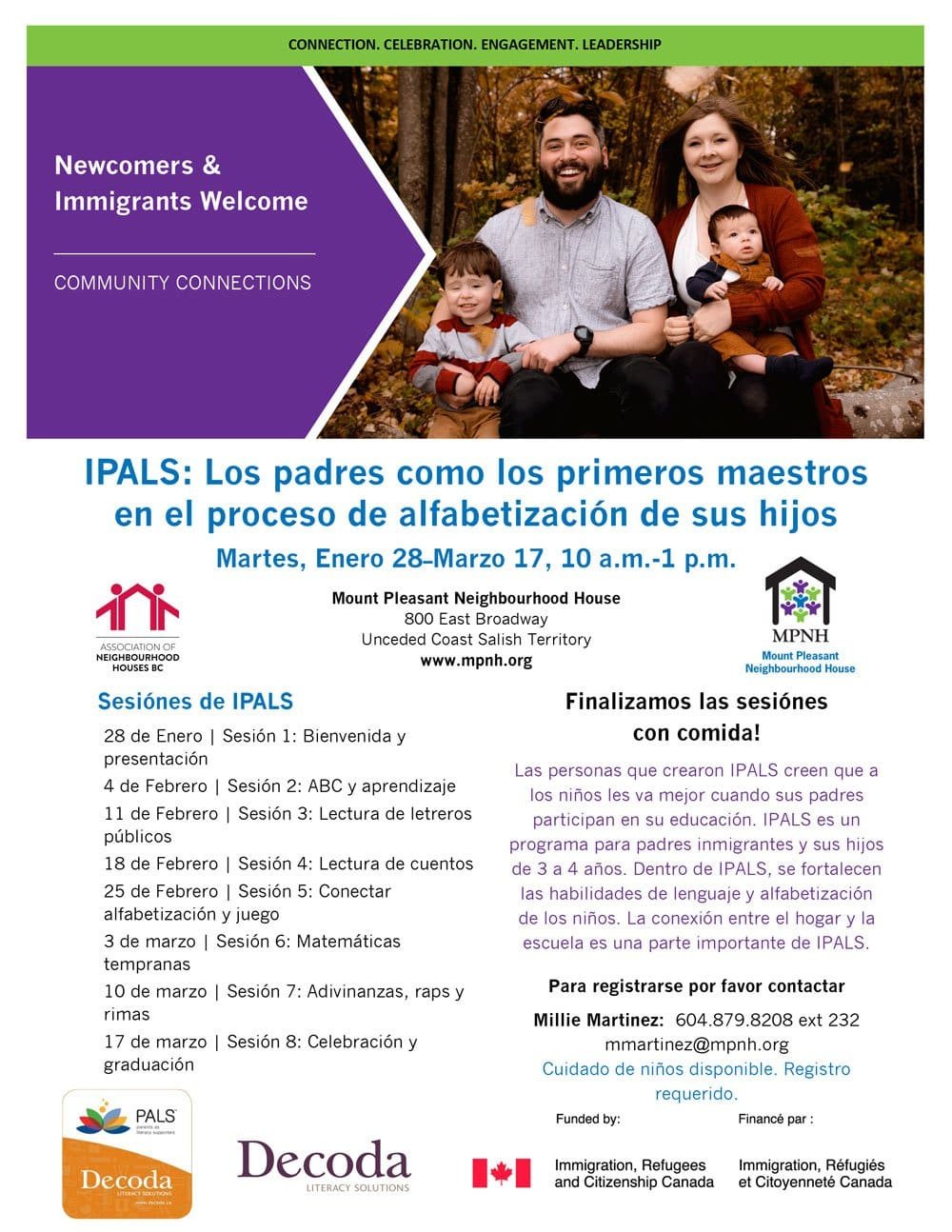 Immigrant Parents as Literacy Supporters (IPALS)

We finish each session with a light meal!

The people who started IPALS believe children do better when their parents are involved in their education. IPALS is a program for immigrant parents and their children who are 3-4 years old. Within IPALS, children's language and literacy skills are strengthened. The connection between the home and the school is an important part of IPALS.
IPALS Sessions:
January 28 | Session 1: Welcome & Introductions
February 4 l Session 2: ABCs & Learning
February 11 | Session 3: Print in our Community
February 18 | Session 4: Storybook Reading
February 25 | Session 5: Linking Literacy & Play
March 3 | Session 6: Early Math
March 10 | Session 7: Riddles, Raps & Rhymes
March 17 | Session 8: Celebration & Graduation
Child care available. Registration required.
Information and registration:
Millie Martinez
mmartinez@mpnh.org
604.879.8208 ext 232
IPALS: Los padres como los primeros maestros en el proceso de alfabetización de sus hijos

Finalizamos las sesiónes con comida!

Las personas que crearon IPALS creen que a los niños les va mejor cuando sus padres participan en su educación. IPALS es un programa para padres inmigrantes y sus hijos de 3 a 4 años. Dentro de IPALS, se fortalecen las habilidades de lenguaje y alfabetización de los niños. La conexión entre el hogar y la escuela es una parte importante de IPALS.
Sesiónes de IPALS:
28 de Enero | Sesión 1: Bienvenida y presentación
4 de Febrero | Sesión 2: ABC y aprendizaje
11 de Febrero | Sesión 3: Lectura de letreros públicos
18 de Febrero | Sesión 4: Lectura de cuentos
25 de Febrero | Sesión 5: Conectar alfabetización y juego
3 de marzo | Sesión 6: Matemáticas tempranas
10 de marzo | Sesión 7: Adivinanzas, raps y rimas
17 de marzo | Sesión 8: Celebración y graduación
Cuidado de niños disponible. Registro requerido.
Información y registro:
Millie Martinez
mmartinez@mpnh.org
604.879.8208 ext 232