DROP one or PICK one gift!
Mount Pleasant Neighbourhood House is inviting the neighbourhood community to participate in the holiday spirit of giving this season and spread the holiday cheer in the community. Thanks to Alair Homes for offering to build and stock the Community Gift Box with presents and bring holiday joy to Mount Pleasant.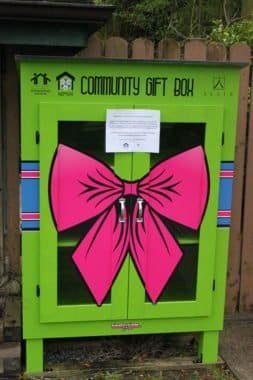 Following the "Take what you need, leave what you can," approach made popular by Little Free Libraries and the Vancouver Community Fridge Project, the idea behind dropbox is to provide an easily-accessible, decentralized location for presents and holiday decorations for those who need them for their families.  
"People are looking for ways to safely and meaningfully give back.  We are craving moments of kindness and this is that opportunity. We have also seen a sharp increase in people accessing our food support, housing and mental health services.  The ripple effect of gifting and giving will be felt throughout our community." says Director of Community Programs at Mount Pleasant Neighbourhood House, Claudine Matlo. 
We believe that this is a perfect opportunity for our neighbours to experience and see the abundance of generosity in the community. The gift box creates a space where people can give in a way that fits with their family/culture and individuality and connect in a more meaningful way to the diversity of our community.  
We thank Alair Homes for initially filling the shelves with toys, holiday decor items, housewares and other gifts for people of all ages. We are calling on the public's help to keep it stocked for the month. Those inspired to make a gift donation are asked to drop off new, unwrapped items in their original packaging.  
Media Articles: Daily Hive; Vancouver is Awesome