What does home mean to you? Have you ever felt like you didn't belong somewhere? How can we encourage a sense of belonging in our community? These were some of the questions posed to the attendees of the storytelling event on Thursday August 2nd 2023 i
n the Main Lounge of Mount Pleasant Neighbourhood House (MPNH). 
Among the huge hanging artworks made by neighborhood house participants and 

artist Sylvan Hamburger, people came to 

hear storytellers share about finding or losing a sense of belonging in Vancouver's East Side.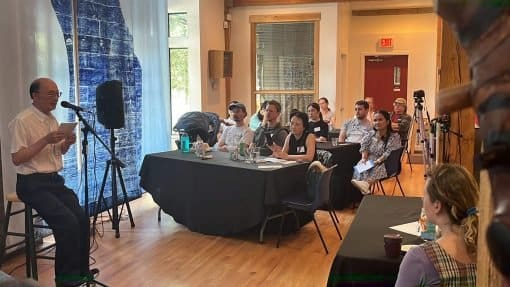 Executive Director Devika Ramkhelawan started the evening off with a welcome and introduced former staff of MPNH and member of the Wet'suwet'en First Nation Jolene Andrew, who provided a territory acknowledgment and a song. Sylvan Hamburger followed, introducing the artworks and the five storytellers: 
Sandy,
Orville
, Danielle, Sonya, and Jolene. They made us laugh, cry and consider our place in Vancouver's East Side. Thank you to all who attended and supported such a special evening.