by Denise Wong for City News 1130

NEW WESTMINSTER (NEWS 1130) – Police in New Westminster have opened an investigation after signs reading 'It's okay to be white' were spotted near Douglas College this week.
Vanessa Woznow saw the poster on a telephone pole on Thursday near Royal Avenue and Eighth Street. "I was just so shocked and disturbed."
She took a photo of the sign and posted it to Twitter.
Woznow says she ripped the sign down and then was horrified to see several other ones posted down the road. "There was another one and another one. A bunch had already been ripped down, as well. But as far as I could see, they were plastered on both sides of the street."
"I know that this rhetoric has been often espoused by white supremacist groups and different chatlines on the Internet. While it might not seem insidious just written as is on the poster, I know that it has much greater depth and comes from a dangerous space … That really worried me," she said.
New Westminster Police say they are aware of the posters and are looking into them.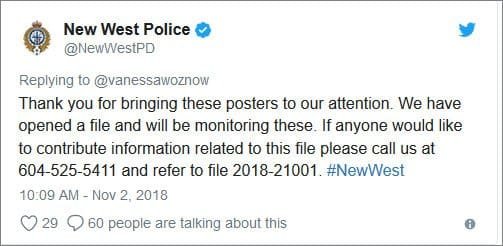 "We don't know … how long it's been going on for or if this is something new," Staff Sgt. Andrew Perry said.
"If people are concerned that there may be some inappropriate promotion in this area, [they should] notify us so that we are aware of this so we can monitor it."
He adds they also want to keep track of where the posters are going up.
"[We want to know] the communities that are impacted, [and] the composition of the area where people are putting up these posters. New Westminster is a very diverse population, so we can understand people's concerns when these posters go up."
Perry emphasizes this is not considered a hate crime, as it's still unknown whether a crime has actually been committed. "We'll monitor things such as whether or not this is a public incitement of hatred or not."
Anyone with information is asked to call New Westminster Police at 604-525-5411.
'Still a lot of work to address racism'
Jocelyne Hamel is the executive director of the Mount Pleasant Neighbourhood House, which is part of the province's Organizing Against Racism and Hate (OARH) program. She's troubled by the signs.
"It's trying to mitigate a social movement that has been gaining a lot of effort over the last couple of decades. And we're not there yet. There's still a lot of work that has to happen to be able to address racism … when I hear about signs like this, it just says that there's still so much work to be done."
She says "there is a bit of a whitewashing about the issue."
"When people say … 'We should be able to say that white is okay, too,' it's really not paying attention to some of the systemic racism that we've got in our cultures. It's really not okay to do that."
She compares it to some people's reactions to #BlackLivesMatter.
"People were saying, 'White lives matter, as well.' It's really a way to minimize the social movements and the steps that people have made to really be able to break down some of the barriers or create dialogue about racism and the hidden structure of racism that exists in our society."
Hamel adds it's normal to feel guilt or other reactions when it's being demonstrated that people are in a place of privilege. "Be open to hearing that … if you open up, then it'll actually really help you put yourself in the shoes of somebody who might have experienced racism — whether it's subtle or overt — because it happens every day."
She says we are exposed to many different cultures in society today. "Sometimes, it just might feel that everything's the same and everything's equal. But in fact, it's not. It's not equal."
"People who are coming from white cultures are coming from place of privilege, just by nature. I'm a white person, myself. I know that. I've done a lot of work around it. It can be a painful process, but it's a necessary process if you want to actually create any kind of level playing field in our society."
– With files from Lasia Kretzel and Sonia Aslam