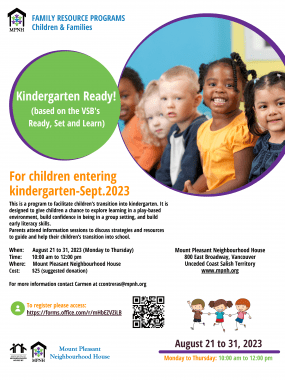 Give your child a head start in their educational journey with our Kindergarten Readiness Program. This specially designed program aims to facilitate a smooth transition into kindergarten, allowing children to explore learning in a play-based environment, build confidence in group settings, and develop early literacy skills. Parents are encouraged to attend information sessions to learn valuable strategies and resources for supporting their child's transition into school.
Program Details:
Targeted Age Group: Children entering kindergarten in September 2023
Dates: August 21 to 31, 2023 (Monday to Thursday)
Time: 10:00 am to 12:00 pm
Location: Mount Pleasant Neighbourhood House, 800 East Broadway, Vancouver, Unceded Coast Salish Territory
Program Benefits: This program aligns with the Vancouver School Board's Ready, Set and Learn initiative and focuses on preparing children for their kindergarten experience. By participating, your child will have the opportunity to engage in play-based learning, enhance their social skills, and develop early literacy skills essential for school success.
Registration and Cost: To register for the program, please visit: HERE. The program suggests a donation of $25 to support its continuation and development.
Contact Information: For more information, kindly reach out to Carmen at ccontreras@mpnh.org or visit our website at www.mpnh.org.